The Netherlands have won a special match to celebrate 40 years since the first women's test. Coincidentally the game was also the 1500th women's test match.
Last weekend the Netherlands met Belgium as part of celebrations to celebrate 40 years since the first test, and also as part of celebrations to recognise 900 years since the foundation of the city.
In 1982 the Dutch played France, but with the French unable to repeat the fixture this time their opponents were neighbours Belgium.
For Belgium, in a period of rebuilding, lacking recent match practice after planned fixtures against Germany and Romania fell through, and missing many of their first choice players due to the school and university exam season, this was a fixture that was always going to be a challenge for the European Trophy team up, especially against a European Championship team such as the Netherlands. And so it proved.
"In theory, we were supposed to face the development team from the Netherlands, but as in November, that was not the case", said Belgian coach Renaud Labardant.. "We did better than the last time - we were better offensively, more dangerous. We scored a try and missed two other big chances. In the end, the difference between the two teams is the athleticism".

The Dutch led 40-5 at the break, the Belgians finally dug deep and restricted the home to to just 17 points in the second half, making the final score 57-5. The Belgian try was scored on the half hour by Hélène Simon, after a good scrum job.

Belgium's problems began from the start when their kick-off to go 10m. From the resulting scrum, the Dutch ran through Belgian defence with Linde van der Velden scoring under the posts. Barely having touched the ball Belgium were 7-0 behind.
The next 10 minutes were scoreless, but the Dutch handling a recycling was always a threat a second try followed after 12 minutes.
With temperatures approaching 30 degrees a mid-half drinks break followed which seemed to help the Dutch, who added two more tries in barely a minute after the restart. Belgium's only score followed, but the Dutch were still able to add two more scores before the break.
A seventh Dutch try came just after the hour as fresh legs from the bench allowed them to rediscover their pace, and the eighth came just seven minutes later. The ninth and final try came from the final plat of the game.
"To say that we are satisfied is a difficult word", continued Labardant. "The satisfaction is the new girls that we had spotted in the last games of the season. Four or five of them will to add competition within the squad. Afterwards, we come out of this match with a mixed feelings. But the girls didn't give up. The state of mind is good".
After the game the "Utrecht Shield" was unveiled. An "unofficial" and hitherto theoretical trophy, it is awarded on the challenge principle, w.ith the current "holders" being England. However players from the first test 40 years ago joined with players from the 1500th test to celebrate the Shield becoming a physical trophy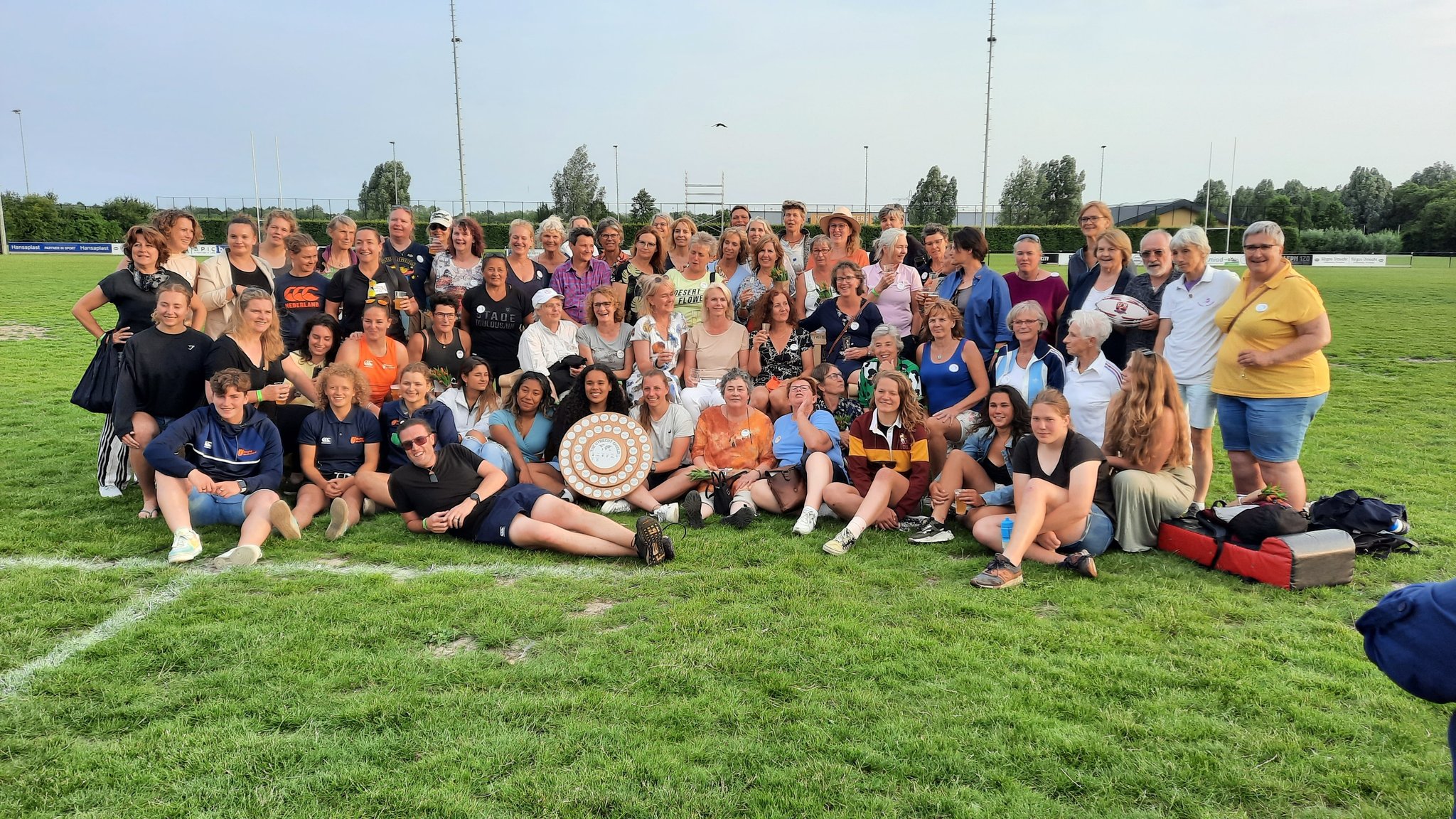 Netherlands: 01 Nicky Dix 02 Anouk Veerkamp 03 Sydney de Weijer 04 Isa Prins 05 Michaja van Capel 06 Inger Jongerius 07 Supartie van Heerde 08 Linde van der Velden
09 Marit Lemmens 10 Esmee Ligtvoet 11 Lieve Stallmann 12 Bastienne Oonk 13 Isis Touw 14 Noa Donkersloot 15 Helen van Hattem
16 Kyra Elzinga 17 Rixt Aerts 18 Brechtje Karst 19 Mhina de Vos 20 Julia Morauw 21 Judith Frinking 22 Quen Makkinga 23 Tamara Stock 24 Jordan Heil 25 Jet Metz 26 Maya Sangala
Belgium: 01. Loise Danguy 02. Selina Vanheyst03"Hanna Dessein 04. Nele'Michem05ilAhlti-Marflielngelaere 06. Jade carananos 07 Lorisse Ranger 08, Helene Simort-
09. Emma Brulard 11 Juliette Dulieu 10. Jeanne Marquegnies 12. Line Sobczak 13. Charlotte Timperman 14. Chanel Germiat 15. Lena Guisoland
16. Anissa Sadeq 17. Elodie Collart 18. Marie Rutsaert 19. Rani Bruynoghe 20. Madeline Lockx 21. Manon Bertin 22. Fanny Fromont