On Friday evening – Remembrance Day – Wales will play a UK Forces XV at Cardiff Arms Park in what is an incredibly appropriate fixture, and perhaps more so than that most players and spectators will realise.
99 years on - same venue, same purpose.
The field in Enniskillen where Emily Valentine played is no longer used for rugby, which means that no rugby ground in the world has a longer association with women's rugby now than Cardiff Arms Park.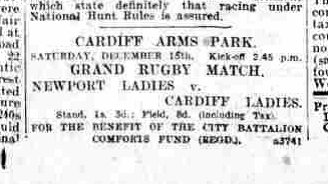 The first recorded women's match at the Arms Park took place very nearly 99 years ago – and it was played to raise money for the very soldiers in France and Belgium whose sacrifice we commemorate at this time every year, and in whose memory this match has been organised, along with that of the servicemen and women who have been injured or who have fallen since.
That game took place on December 16th 1917, when Cardiff Ladies played Newport Ladies, Newport winning 6-0 (advert for the match, left, is from the Western Morning News - thanks to Playing Pasts).
Most of the Cardiff players were working at Wm Hancock Ltd, a brewery in the city, while the Newport team were mainly from at Lysaghts Ltd – an iron and steelmakers who would have been making munitions or other war materials. And it was not a one off. Records are sketchy at best but this was almost certainly one of a series of games between the teams - and we do have what seems to be a picture of the Newport team taken at another game, this time in Newport (right).
That we know about it at all is perhaps thanks to Maria Eley, who played fullback for Cardiff that afternoon aged 16. When Maria died in January 2007 at the age of 106 she was one of (if not the) oldest rugby players ever, and her death was marked in newspapers across south Wales.
When she was interviewed a year or so before her death she told journalists that the Arms Park match was far from her only game and she only stopped playing when the troops came home and she married her husband, Hector, and concentrated on bringing up eight children. Unfortunately, all her other appearances in the blue and black of Cardiff have been lost to history (as has so much of women's rugby – and social – history).
She attributed her longevity to a love of rugby – as well as an aversion to cigarettes and alcohol – and was an active chair of her senior citizens' club at her native Cogan, near Penarth, for 24 years and was still calling bingo until she was 101.
So, when Wales run out alongside the UK Forces XV on Friday night, they will be doing so not only to commemorate the sacrifice of men and women who have served in the forces, but also women like Maria Eley who served their country on the home front a century ago, and whose contribution to their country – and the game of rugby – is so often overlooked.
As for Friday's game, it will be more than just an exhibition. In fact, it promises to be terrific battle, and an important part of Wales' preparations for the Six Nations and next year's World Cup. On paper a UK Forces XV should be stronger than the British Army, who on their own, based on their performance against the Netherlands in September, would be placed only just below the Dutch and Scotland if they had a world ranking. They should give Wales a real test.
Wales make six changes from the starting XV which defeated Scotland 15-0 a fortnight ago in Cardiff. Dyddgu Howell continues at fullback, with a new wing combination of Adi Taviner (a try-scorer against Scotland) and Jess Kavanagh-Williams completing the back three. The partnership of Rebecca De Filippo and Kerin Lake in the centres will look to be equally effective this time around, whilst fly-half Elinor Snowsill has a new half-back partner in number nine Keira Bevan.
Into the front row come loosehead Cerys Hale and tighthead Amy Evans, packing down with hooker and captain Carys Phillips, who also crossed the whitewash against the Scots. Siwan Lillicrap remains in the second row, where she is joined by Mel Clay. An unchanged back row is comprised of blindside Alisha Butchers, openside Sioned Harries and number eight Shona Powell-Hughes.
Wales: 15 Dyddgu Hywel (Scarlets) 14 Jess Kavanagh-Williams (Scarlets) 13 Kerin Lake (Ospreys) 12 Rebecca De Filippo (Dragons) 11 Adi Taviner (Ospreys) 10 Elinor Snowsill (Dragons) 9 Keira Bevan (Ospreys) 1 Cerys Hale (Dragons) 2 Carys Phillips (c) (Ospreys) 3 Amy Evans (Ospreys) 4 Siwan Lillicrap (Ospreys) 5 Mel Clay (Ospreys) 6 Alisha Butchers (Scarlets) 7 Sioned Harries (Scarlets) 8 Shona Powell-Hughes (Ospreys)
Replacements: 16 Lowri Harries (Scarlets) 17 Gwenllian Pyrs (Scarlets) 18 Catrin Edwards (Scarlets) 19 Charlie Mundy (Ospreys) 20 Rachel Taylor (Scarlets) 21 Sian Moore (Dragons) 22 Robyn Wilkins (Ospreys) 23 Elen Evans (Scarlets) 24 Jasmine Joyce (Scarlets) 25 Rosie Fletcher (Ospreys): Travelling reserves: 26 Meg York (Dragons) 27 Kelsey Jones (Ospreys) 28 Jodie Evans (Scarlets)