All the team news as we get it for the final round of the women's 6 Nations.
France v Scotland, Friday March, 15, Bourillot Stadium, Dijon, 19:00 (CET)
France have announced a squad with three changes from that which lost narrowly to Ireland in Ashbourne last week. Caroline Ladagnous, Marjorie Mayans and Jade Le Pesq have all now switched to the sevens squad, which is in training for Hong Kong. They have been replaced by Laurelin Fourcade, Sandra Metier, and Audrey Parra. All are expected changes, all have previous caps for the national team, and Parra played in the opening two games against Italy and Wales.
The losses of Ladagnous and Le Pesq will be keenly felt as both have played exceptionally well thoughout the tournament to date, but sevens is now the priority for Les Bleues - and it seems certain that the same changes were planned and would have been made regardless of the result last weekend.
However, with Bailon starting for the first time, Agricole at outside centre, and Tremouliere at full-back the starting line-up is still very strong, with all key players in their preferred positions for the first time in this year's tournament.
Scotland make some changes to their backs with utility back Lyndsay O'Donnell coming in from the under-20 squad and making her debut on the wing and Sarah Law stepping up from the bench, making her first start at scrum half while Louise Dalgliesh moves to stand-off. Coming on to the bench from the Scotland under-20 squad is the uncapped flanker Hannah Smith (Hillhead Jordanhill).
Meanwhile closer to home Scotland's U20s side will look to build on last month's win over Finland Women in their match against Hartpury College at University of Edinburgh playing fields, Peffermill in Edinburgh on Sunday (17 March, k/o 11.45am)

Scotland: Steph Johnston (RHC Cougars), Lyndsay O'Donnell (Richmond), Sarah Dixon (RHC Cougars), Annabel Sergeant (Richmond), Megan Gaffney (Hillhead Jordanhill), Louise Dalgliesh (RHC Cougars), Sarah Law (Murrayfield Wanderers), Heather Lockhart (Hillhead Jordanhill), Sarah Quick (Murrayfield Wanderers), Tracy Balmer (Worcester) . Lindsay Wheeler (Richmond), Bridget Millar-Mills (Worcester), Jade Konkel (Hillhead Jordanhill), Tess Forsberg (Richmond), Susie Brown (c) (Richmond)
Substitutes: Beth Dickens (Murrayfield Wanderers), Suzanne McKerlie-Hex (Murrayfield Wanderers), Lindsey Smith (Hillhead Jordanhill), Kelly Shields (Murrayfield Wanderers), Leanne Neary (RHC Cougars), Lauren Harris (Melrose)
France: 15. Jessy Tremouliere (Romagnat), 14. Julie Billes (Usa Perpignan), 13. Sandrine Agricole (Rennes), 12. Lucille Godiveau (Rennes), 11. Elodie Guiglion (Usa Perpignan), 10. Aurélie Bailon (Montpellier), 9. Marie Alice Yahe (Usa Perpignan), 1. Hélène Ezanno (Rennes), 2. Gaëlle Mignot (Montpellier), 3. Elodie Portaries (Montpellier), 4. Sandra Rabier (Ovalie Caennaise), 5. Marine De Nadai (Montpellier), 6. Coumba Tombe Diallo (Bobigny), 7. Manon Andre (Saint Orens), 8. Safi N'diaye (Montpellier)
Replacements: 16. Laetitia Salles (La Valette), 17. Assa Koita (Bordeaux), 18. Christelle Chobet (Lons), 19. Lénaig Corson (Rennes), 20. Laetitia Grand (Lons), 21. Audrey Parra (Montpellier), 22. Sandra Metier (Bobigny), 23 Laurelin Fourcade (Bordeaux).
Italy v Ireland, Sunday March 17, Parabiago (Milan), 15.00 (CET).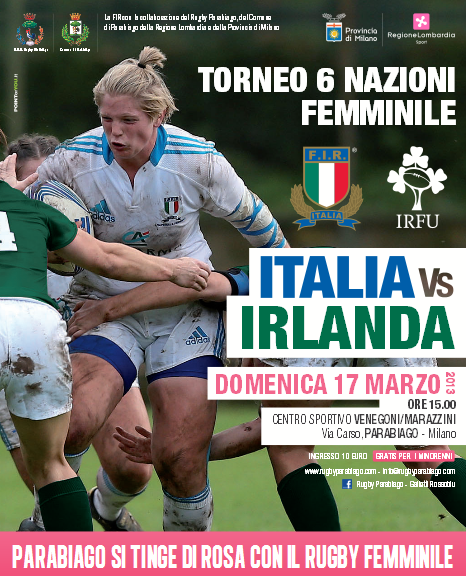 Italy are all but unchanged from the team that lost of England in the last round - a planned squad rotation that sees Ilaria Arrighetti return to the squad in place of Awa Coulibaly is the only change for the game in Milan on Sunday.
A large crowd is expected for the game, with the organisers promising a "celtic atmosphere" with live music and Irish dancing.
Meanwhile Ireland make two changes as Niamh Kavanagh and Grace Davitt return to the starting XV. Davitt has been named in the centre replacing Jenny Murphy who picked up a hamstring injury in the game against France. Kavanagh comes in on the wing replacing Ashleigh Baxter who takes her place on the bench.
Heather O'Brien and Shannon Houston have also been included in the replacements.
Sunday's game will be broadcast live from Milan Park on RTE Two with coverage starting at 13.45hrs GMT.
Ireland: 15. Niamh Briggs (UL Bohemians/Munster) 14. Niamh Kavanagh (UL Bohemians/Munster) 13. Lynne Cantwell (Richmond/Exiles) 12. Grace Davitt (Cooke/Ulster) 11. Alison Miller (Portlaoise/Connacht) 10. Nora Stapleton (Old Belvedere/Leinster) 9. Larissa Muldoon (UWIC/Exiles) 1. Fiona Coghlan (UL Bohemians/Leinster) (capt) 2. Gillian Bourke (UL Bohemians/Munster) 3. Ailis Egan (Old Belvedere/Leinster) 4. Sophie Spence (Mowden Park Sharks/Exiles) 5. Marie Louise Reilly (Old Belvedere/Leinster) 6. Siobhan Fleming (Tralee/Munster) 7. Claire Molloy (Bristol/Exiles) 8. Joy Neville (UL Bohemians/Munster)
Replacements: 16. Stacey-Lea Kennedy (City of Derry/Ulster) 17. Fiona Hayes (UL Bohemians/Munster) 18. Lauren Day (Waterloo/Exiles) 19. Heather O'Brien (Highfield/Munster) 20. Laura Guest (Highfield/Munster) 21. Amy Davis (Blackrock College/Ulster) 22. Shannon Huston (Blackrock/Leinster) 23. Ashleigh Baxter (Belfast Harlequins/Ulster)
Italy: 15. Manuela Furlan, 14. Diletta Veronese, 13. Michela Sillari, 12. Paola Zangirolami, 11. Maria Grazia Cioffi, 10. Veronica Schiavon, 9. Sara Barattin, 8. Flavia Severin , 7. Silvia Gaudino (cap), 6. Michela Este, 5. Alice Trevisan, 4. Cristina Molic, 3. Lucia Gai, 2. Melissa Bettoni, 1. Marta Ferrari.
Replacements 16. Debora Ballarini, 17. Sara Zanon, 18. Awa Coulibaly, 19. Zublena Cecilia, 20. Ilaria Arrighetti, 21. Vanessa Chindamo, 22. Michela Tondinelli, 23. Sofia Stefan
Wales v England, Sunday March 17, Aberavon RFC, 14.30.
Gary Street has made just one change to the starting line-up that defeated Italy last weekend. Wasps scrum-half La Toya Mason comes in to start. On the bench, Street has called up Bristol's Kim Oliver, who has been side-lined through injury this season.
"I was impressed with our performance against Italy last weekend so I have given the bulk of the squad the chance to start again," said Street. "It was a tough call to decide who should start at scrum-half but in this instance La Toya just gets the nod. The only other changes are on the bench and it's great to welcome back a player of Kim's experience. She has 42 caps and is unlucky not to have played this season because of injury. We have definitely got an experienced bench who will bring a lot of firepower to our game".
Wales meanwhile make six changes. Amy Day replaces Laura Prosser at scrum half while Charlie Murray makes her first start of the campaign after impressing as a replacement in Sunday's win away to Scotland where she scored a second half try. Philippa Tuttiett makes way for her on the wing. The pack has been boosted with 157 caps with the introduction of prop Jenny Davies, hooker Lowri Harries, second row Gemma Hallett and back row Catrina Nicholas. Megan York, Carys Phillips, Vicky Owens and Nia Davies all move down to the replacements bench.
Wales Women's head coach Rhys Edwards has no qualms about making so many changes against a strong England side.
"Charlie had her first opportunity against Scotland and looked dangerous every time she got her hands on the ball. She took her try really well while Amy also did well when she got her chance.
"In the forwards all the players who are coming in for the England game made an impact when they came on against Scotland. They steadied the ship in what was a tough game in demanding conditions. We can't afford to start slowly against England so I think their experience will prove invaluable."
Wales: 15 Dyddgy Hywel (Caernarfon)14 Caryl James (Cardiff Quins)13 Elen Evans (Waterloo)
12 Rebecca de Filippo (Cardiff Quins)11 Charlie Murray (Neath Athletic)10 Elinor Snowsill (Bristol)9 Amy Day (Unattached);1 Jenny Davies (Waterloo)2 Lowri Harries (Neath Athletic)3 Catrin Edwards (Cardiff Quins)4 Gemma Hallett (Pontyclun) 5 Shona Powell-Hughes (Neath Athletic) 6 Catrina Nicholas (Cardiff Quins) 7 Sioned Harries (Cardiff Quins) 8 Rachel Taylor (Bristol - Capt)
Replacements: Carys Phillips (Cardiff Met), Megan York (Blaenau Gwent), Bethan Howell (Seven Sisters), Nia Davies (Cardiff Met), Vicky Owens (Pontyclun), Laura Prosser (Pontyclun)
Philippa Tuttiett (Cardiff Quins). Leila Johns (Unattached)
England : Lauren Cattell (Saracens), Lydia Thompson (Worcester), Abi Chamberlain (Richmond), Amber Reed (Bristol), Sally Tuson (Bristol), Ceri Large (Worcester) La Toya Mason (Wasps) (VC), Roz Crowley (Lichfield ), Victoria Fleetwood (Lichfield), Laura Keates (Worcester), Joanna McGilchrist (Wasps), Emily Braund (Lichfield) , Sarah Hunter (C) (Lichfield), Hannah Gallagher (Saracens), Harriet Millar-Mills (Lichfield)
Replacements: Emma Croker (Richmond), Rochelle Clark (Worcester), Sophie Hemming (Bristol) , Tamara Taylor (Lichfield), Rebecca Essex (Richmond), Georgina Gulliver (Lichfield), Kim Oliver (Bristol), Emily Scott (Thurrock)